About Us
Headquartered in NOIDA, in India's National Capital Region, Panzer is a forerunner in providing customized and comprehensive security services. Incorporated in 2000, today the Panzer brand is a well-recognized and reputed name in the country, with a Norwegian Accreditation Certification ISO 9001:2008 as well as the PSARA License to operate across various states in India.
Growing steadily since its inception, it has today more than 3500 security personnel in various locations in the country, working across all business sectors-hospitality, healthcare, corporate house, industrial complexes, amusement parks, commercial & retail establishments, IT-ITES companies, expressways & toll management, construction & development, financial institutions and academic institutes.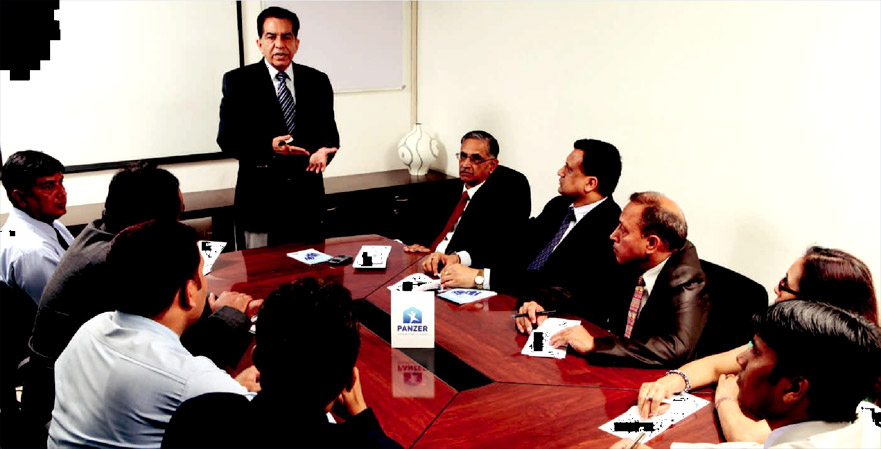 MD's Desk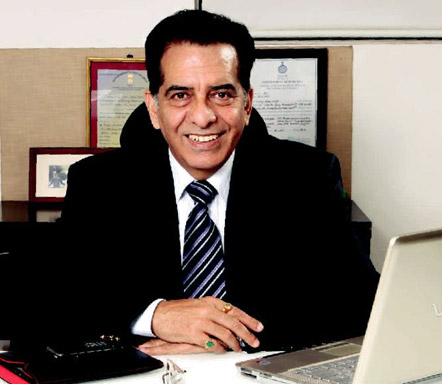 Major [Retd.] Guru Mehta is an alumnus of the National Defence Academy and a distinguished officer of the India Army. He joined the Air Defence Branch of the Indian Army and took premature retirement after 20 years of service. Following early retirement, he gained invaluable first-hand experience, heading the security departments of prestigious hotels and industrial houses, before founding Panzer. Working across diverse industries has given him a very close exposure to the various intricacies of security and related issues and taught him the ways and means to handle them with aplomb. This has contributed immensely to the success of Panzer, especially in its early years.
Major Mehta combines sincerity, humility, dedication and a high degree of professional competence with an intimate understanding of client needs.
Mission & Vision
Mission
In single-minded pursuit of our mission to protect people and all that they value, by 2018 we well make Panzer the indisputable first choice amongst security services companies for every customer and human resource in India.
We will adhere unflinchingly to our values of Courage, Discipline, Honesty, and Courtesy.
With a superior quality, highly skilled workforce and sharpest attention to detail, we will stay well stay well prepared to deal with security threats preemptively, so that our customers feel 100% safe and secure at all times.
Vision
Panzer was set up with the singular purpose-
To protect people and all that they value.
As a Panzerian, every individual is selected, indoctrinated and trained to abide by its strict code of ethics and a strong-value system. What sets us apart is our adherence to the values of:
» Courage: Being brave, especially in adversity.
» Discipline: Proper, orderly, calm and controlled conduct at all times.
» Honesty: Moral uprightness and truthfulness.
» Courtesy: Polite and considerate attitude and action towards others.
These unique qualities serve our customers as well as us well.
Why Panzer
» Stringent Standards of recruitment. To attract the quality manpower, stipend is paid during the Training
» High Emphasis on Quality Services encompassing special focus on grooming. To aid uniformity of appearance, Barber & Laundry services
are facilitated.
» Pre- Employment / Pre –Deployment Police Verification
» Higher Emphasis placed on retention of guards through measures like Exit Interview, 0 Hour Interview & 24X7 helpline dedicated for
Guards to address the grievances in shortest span of time
» To provide additional comfort and sense of belongingness in the guards, special drives are being organized for guards to obtain the Lift
Time Smart Cards from E.S.I.C.
» Utmost importance is given for Training as per standards prescribed in PSARA by way of Pre-Deployment Training and periodic refresher
On-The-Job training / Fire Fighting Rehearsals / Emergency & Evacuation Drills by Trained Professionals
» Specific Training based on Case Study's for more pro-active and preventive response by the security personnel on ground.
» Operations controlled & monitored through well defined Hierarchy geared for pro-active & prompt responses and effective audit systems.
» Strong & Healthy HR Practices to include 100% working transparency and legal compliances
» Established healthy reputation with prestigious client base associated ever since their inception and for more than 5 years. Regular
appreciation letters bear testimony.
Panzer Way
We have a simple philosophy with which we approach security. Prevention is better than cure. Driven by this principle we focus on preempting, rather than reaching .We believe that it is far better to ensure proactive protection against all possible security situation than it is to scramble for emergency measures once the security has been breached. And since it is our promise and our way of life to leave nothing to change, we also have a rapid, emergency mechanism in place in even for the unlikely instance of an unforeseen security issue.
After all in the business of security, one has to "leave nothing to chance" and hence nothing less than 100% protection is good enough.
We understand that every client's security needs are not alike. Some face more serious security risks than others. Some establishments need to be far more security sensitive. On the other hand, not everyone should end up paying for services that they do not require. In keeping with this understanding and our culture of customized-solutions, we have created different security service modules to cater to the individual needs of each client, so that we are able to provide need-based, cost-effective solutions across a large spectrum of clients and their needs.
Training
Training is the essence of quality that any client expects/wants. Hence training as a part of comprehensive package (trained/quality guard) delivery to client needs extra and special emphasis. Regular and repeated training is the crux of expected quality. While PSARA lays down adequate guide lines which are mandatory for implementation, but to that we in PANZER have added flavor to the efforts by way of practical knowledge and experience. We also include "social responsibility" as an essential ingredient of the curriculum.

The curriculum is designed for three weeks as per PSARA 2005 and the trainers have been drawn from the group of ex-servicemen who have rich knowledge and experience. Program has been worked out to provide daily mix of indoor/outdoor activities.
Clients
Serving the industry for 15years, we have been fortunate to be associated with all the sectors of business. Following are the setups we have been associated with and have adequate experience & operational infrastructure.
» Hospitality
» Health Care
» Commercial Establishments
» Industrial Sectors & Manufacturing Units
» Malls & Amusement Parks
» Multiplexes
» Corporate
» IT / ITES & BPO
» Residential Complexes
» Expressways /Highways & Toll Management
» Schools & Educational Institutes
» Facility Management Organizations
» Retail
Careers
PANZER Division Security & Allied Services (P) Ltd. offers a enriching platform for the perpetual grooming of the individual along with the majestic growth prospects in terms of learning and acknowledgement. Our employees contribute as a firm team and we do reciprocate the same. Pleasant environment and inexplicable working patterns foster the company likewise the supporters. Undoubtedly, working with panzer is a expedition, if you have the zeal in you to explore the challenging assignments then it is the most appropriate place.
Interested Candidates please apply at hr@panzersecurity.com
Presence of Panzer
Corporate Office
Panzer Division Security & Allied Services
A – 6, Second Floor, Sector - 10
Noida -201301, Uttar Pradesh, (India)
Phone : 0120 – 4310952
Email: info@panzersecurity.com

Operational States
» Delhi
» Punjab
» Haryana
» Uttar Pradesh
» Himachal Pradesh
» Madhya Pradesh
» Uttrakhand
» Karnataka
Satellite Offices / Operational Cities
» Baddi (Himachal Pradesh)
» Amritsar (Punjab)
» Zirakpur (Punjab)
» Ahmedabad (Gujarat)
» Bangalore (Karnataka)
» Mohali
» Jaipur (Rajasthan)
» Dehradun / Mussoorie (Uttrakhand)
» Gajraula / Bareilly (Uttar Pradesh)
» Agra (Uttar Pradesh)
» Indore / Jabalpur (Madhya Pradesh)
Menu of Services

Security Services
» Elite
» Special
» Standard
Training
» Basic
» Refresher
» Customized
» Fire-fighting
» First-aid
» Evaculation Drills
Allied
» Front office
» Housekeeping
» Pantry
» Maintenance
» Valets & Chauffeurs
Consultancy
» Fire Safety & Audit
» Site Survey & Audit
» Manpower Planning & Deployment
» Inventory Control System
Payroll Processing
Coming Shortly